Based in Asheville, NC, Kostelec Planning was formed by Don Kostelec, AICP in 2011. Kostelec Planning specializes in integrated transportation-based land use and sustainability policies and practices based on Don's 12 years working in the public and private sector. Kostelec Planning's speciality areas include pedestrian planning, bicyclist planning, regional transportation policy, mobility-based solutions, Transportation Demand Management and Complete Streets.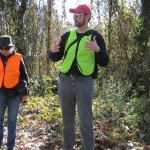 Don has 12 years of experience in multi-modal transportation planning and transportation/land-use integration, including extensive experience in public engagement, sustainable and non-motorized transportation planning and regional planning. He recently formed Kostelec Planning, based in Asheville, NC, and has served as Planning Director for Ada County Highway District in Boise, Idaho, and as Director of Commuteride, a regional rideshare agency in SW Idaho.
He earned his BS in Political Science and Journalism from Western Carolina University and a Master of Urban Planning & Policy from the University of Illinois at Chicago. He is an adjunct planning professor in the Master of Public Administration program at Western Carolina University and was recently appointed to a three-year term on the Transportation Research Board's Committee on Transportation Demand Management (ABE 50).
Don's work has garnered awards from the Federal Highway Administration (2012 Transportation Planning Excellence Award), NCAPA (2012 Outstanding Planning Award & 2009 Sustainability in Planning Award ) and National APA (2006 Outstanding Use of Technology in a Planning Application – ACHD Pedestrian & Bicycle Transition Plan).
During his private and public sector experience, Don has been a project or task manager on the following projects:
Pedestrian & Bicyclist Planning
Rolesville (NC) Comprehensive Bicycle Plan;
Ada County Highway District (ID) Green Bicycle Lanes & Shared Lane Markings Implementation Strategies;
Sound Transit (WA) Pedestrian & Bicycle Station Access Study;
Granite Falls (NC) Comprehensive Pedestrian Plan;
Wake Forest (NC) Safe Routes to Schools Bicycle Rodeo;
Sylva (NC) Comprehensive Pedestrian Plan; and
Banner Elk (NC) Comprehensive Pedestrian Plan.
Health Impact Assessments & Active Living
HIA for the Buncombe County (NC) Greenways & Trails Master Plan;
HIA for the Haywood County (NC) Comprehensive Bicycle Plan; and
West Virginia Association of Counties Healthy Counties Outreach.
 Regional Planning
Lakewood (WA) BRAC Transportation & TDM Study;
Al Gharbia (Abu Dhabi, UAE) Regional Mobility Masterplans;
Western North Carolina Inland Port Feasibility Study;
French Broad River MPO (Asheville region) Congestion Management Process; and
Jacksonville (NC) Long Range Transportation Plan.
TDM & Transit Planning
French Broad River MPO Long-Range TDM Plan;
Joint Base Lewis-McChord TDM Analysis;
Pierce County (WA) Coordinated Transportation Coalition – Coordinated Transportation Plan Update;
Skagit County & Island County (WA) Coordinated Transportation Plan Update; and
New River Regional Transit Master Plan (Jacksonville / Onslow County, NC).
Transportation Planning
Garden City (ID) Tranportation & Land Use Integration Plan;
Jacksonville (NC) Urban Area Collector & Green Streets Plan; and
Garner (NC) Transportation Plan.
Other Planning
Sylva (NC) Wayfinding Strategies;
Indirect & Cumulative Effects Analysis: Various projects for North Carolina DOT;
Concept Plan for Judaculla Rock Site Development & Trail Design (Jackson Co., NC); and
Frankfort (IL) Coordination with Canadian National Acquisition of the Elgin, Joliet & Eastern Railroad.